Promotion
Fabulous Bundles for SMEs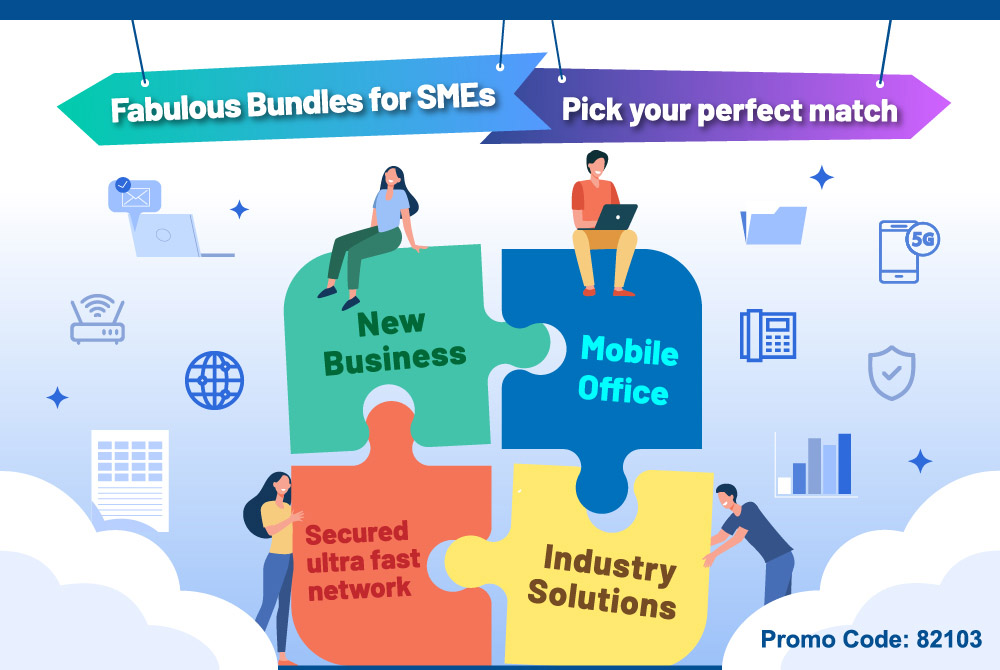 In today's new normal, SMEs need to embrace the "Work Anywhere" model for maximum efficiency. However, "Cybersecurity" is equally important. HKT's "5A network security protection" brings high-speed broadband and 5G mobile services with all-round protection to SMEs in both outdoor and indoor working environment. 



Anti-Email Virus & Spamming


HKT has launched a variety of  fixed-mobile packages with "5A network security protection" integrating different combinations of our blazing fast business broadband, csl 5G mobile service, business telephone with Office-On-The-Go mobile app and cloud services for either indoor or outdoor work so there's sure to be one!
• This offer is valid until Oct 31, 2021, and with a limited quota.
• This offer is only applicable to new subscription of a designated HKT fixed-mobile service plan contract of 24 months or more and are bound by the relevant terms and conditions of specific contract plans. For details, please refer to the relevant application form.
• This service is for commercial customers only, not for personal or residential users.
• This offer is applicable only to the tenants of designated commercial buildings and subject to fiber network coverage.
• Business Broadband service (300M, 500M, 1000M) refers to bandwidth specification. Actual speed will be affected by the user's device, technology, network and software used, network configuration and coverage, usage levels and extraneous factors.
• csl. 5G is applicable only to the tenants of designated locations and devices. In areas outside of our 5G coverage, will be provided with a 3G and/or 4G Mobile Service.
• All prices indicated in this promotion program are in Hong Kong dollars.
• Hong Kong Telecommunications (HKT) Limited ("The Company") reserves the right to change or terminate any or all of the above offers without prior notice. In the event of dispute, the Company reserves the right of final and binding determination.
Please leave your information below and we will contact you as soon as possible