Promotion
Business Broadband Switching Offer: Same Price, Bandwidth Up!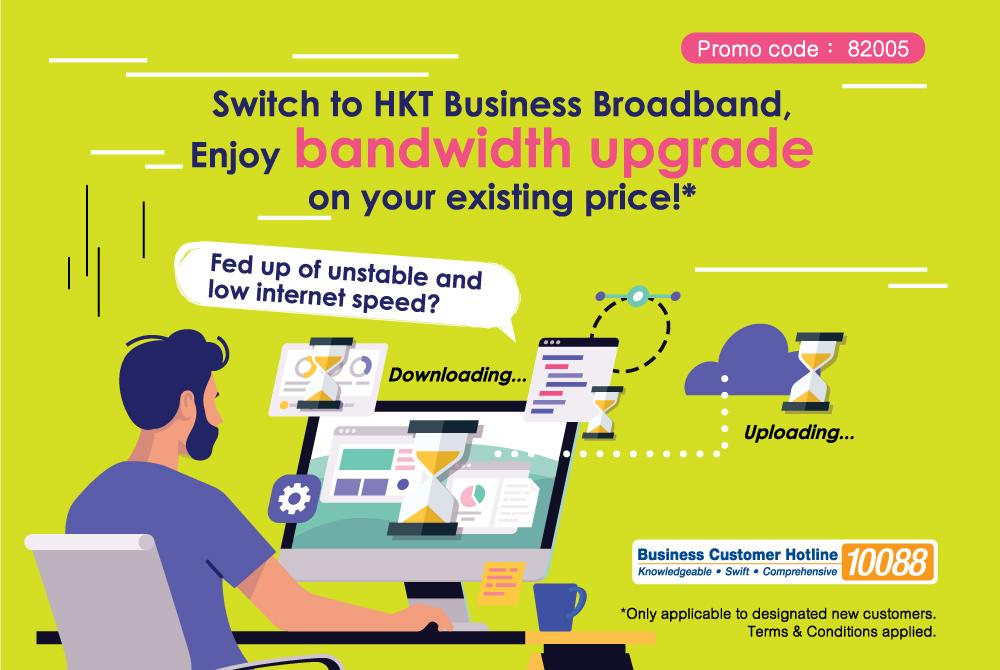 We understand that you are deeply dissatisfied with your current service provider with low bandwidth, unstable network, and frequent disconnections.
Switch to HKT and enjoy a quality network experience!
Designated customers who switch to HKT Business Broadband can enjoy bandwidth upgrade of up to 1000M and cyber security protection at the same price as existing.
《Online Exclusive》
Enjoy extra $200 supermarket coupons upon successfully online application of business broadband service.
This offer is valid until Dec 31st, 2022, and with a limited quota.

This offer is only applicable to new subscription of a designated HKT Business 

Broadband service plan contract of 24 months or more and are bound by the relevant 

terms and conditions of specific contract plans. For details, please refer to the relevant 

application form.

Eligible customers can enjoy an HKT Business Broadband service plan of higher 

bandwidth or up to 1000M at existing average monthly fee (based on the 24-month 

contract). Customers must present a relevant bill issued by the existing service provider 

within the last three months, which clearly shows the customer's name, service, 

bandwidth, and installation address.

1000M refers to bandwidth specification. Actual speed will be affected by the user's device, technology, network and software used, network configuration and coverage, usage levels and extraneous factors.

This service is for commercial customers only, not for personal or residential users.

This offer is applicable only to the tenants of designated commercial buildings and subject to fiber network coverage.

All prices indicated in this promotion program are in Hong Kong dollars.

Hong Kong Telecommunications (HKT) Limited ("The Company") reserves the right to change or terminate any or all of the above offers without prior notice. In the event of dispute, the Company reserves the right of final and binding determination.
Please leave your information below and we will contact you as soon as possible